Description
KIT CONTAINS 4 SAMPLES LISTED BELOW
Looking to make a change?  We all have things we like and don't like about the supplements we currently use.  Sometimes we don't know that we are using a subpar product until we try something else.  We put together a sample pack of our most popular products and flavors to help you make an informed decision as to whether or not it is time to make a change and if so, what products to change to.
Contains 1 serving of each product below!
1 x Escobar – Fruit Punch – Hi Stim Endurance Pre workout.  It's infamous, and like the man it was named after, Escobar can put you on a path to success! Escobar is the key to almost 56 Billion dollars worth of pure, untamed fitness. It helps with muscle growth, assists in cooldown, and has hi stims for those energized and endurance-based work-outs. Escobar is king, queen, jester, and executioner. Escobar is pain, pleasure, fuel, and victory. Escobar is Life.*
1 x Hulk AF – Tropical Paradise – Hulk AF, is our pre-workout non-stim pump formula, that is specifically designed to get your system ready to SMASH, or lift a bit more than your average workout. If you're struggling with the larger weights, spending more and more of your time just increasing your lift, you're not doing it right. It's time to increase your pre-workout metabolism and unleash the power of electrolytes. The only way to prepare for a hardcore session is to use a pre-workout pump formula.*
1 x El Chapo

 

– Tigers Blood –

 Ultra Hi Stim Pre Workout 

(WARNING! Start with Half a serving) – Our strongest pre workout yet!  In fact most only need a half a scoop!  El Chapo will put any other legal pre workout to shame.  Formulated for the stim junkie!
1 x Night Night MF – Fruit Punch – Sleep formula. (WARNING! Start with Half a serving)  Sleep is the foundation of our health and the bedrock to muscle growth, but many of us don't get enough of it. We struggle to fall asleep, toss and turn all night, and wake up feeling tired. When we don't get enough quality sleep, our performance suffers and our gains get wrecked because sleep and recovery are critical to muscle growth. Night Night MF is a high-quality sleep aid and recovery formula designed to help you fall asleep quickly and experience restful and refreshing deep sleep. Want the ultimate boost in both physical and mental performance? Start here*
1 x 12oz Swole AF Shaker Cup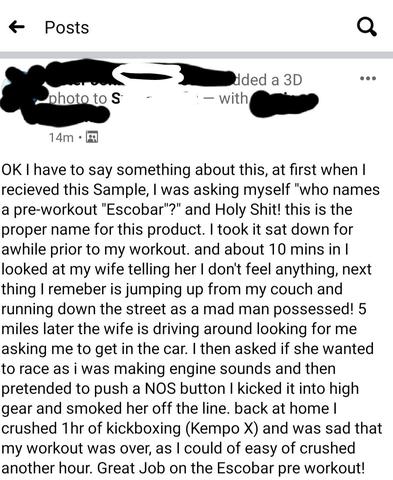 *These statements have not been evaluated by The Food and Drug Administration. This product is not intended to diagnose, treat, cure, or prevent any disease.  Products may or may not offer the benefits stated.